The Forgetful Hero
Once upon a time, in a land far, far away, there was a boy named Evan who dreamed of being a hero! The Forgetful Hero will take your children on a fanciful journey through forests and across the sea to save a royal child from a dragon! Along the way they'll meet Goblins, Mermaids and Pirates, oh my! They'll also learn little lessons about being polite, listening and thinking outside to box. A wonderful half-hour of entertainment suitable for children 3-7.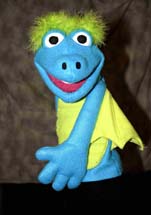 The Forgetful Hero is a fairy tale in the style of "Shrek" that encourages audience participation. It's perfect for Birthday Parties as the birthday boy or girl gets to be the kidnapped Prince or Princess and have a personal conversation with Ned the Dragon! But don't worry, Ned is a vegetarian who only kidnapped the child because he was lonely. In any case Evan will soon be along to save the day!
The Technical requirements for The Forgetful Hero are quite modest. We need an area that is 6 1/2 feet by 4 1/2 feet wide to set up the stage (there will need to be additional space for the audience). We will also need an electrical outlet for lights and sound, we use about the same amount of electricity as a microwave so if the outlet you have assigned to us tends to blow a fuse you may need to unplug some items before we arrive!
For info on bookings Click Here or Contact Us!
Credits:

Script, Sound, Set, and Puppeteer: Lawrence Raybon
Puppets and Puppeteer: Lesley Raybon
Music: Kevin MacLeod
Please Help Us!
We make free to watch webisodes to try to make as many people smile as possible, but these videos cost money to produce... so if we made you smile or if you like to make others smile, please consider making a paypal donation using the button below. Thank you!
Join ThePuppetPlayers.com mailing list to receive news and updates about our shows, public performances and new webisodes!

PS: We will NEVER sell your info, not even if Purple Beard threatens to make us walk the plank!